Aug 21, 2013 - At approximately 3:00am this morning in Damascus, a year to the day after Obama's infamous "red line" speech warning Assad about using chemical weapons, and as a specialized UN inspection team sleep in their hotels in Damascus, ostensibly there to investigate a CW attack 6 months ago, Assad launched his largest, most wide scale and most deadly attack using chemical weapons on the Damascus suburbs of Zamallaka and Ein Turma in the Eastern Ghouta area. The fallout from the attack was also felt in many of the surrounding districts.
Preliminary reports are that close to 600 people have been killed so far with thousands more injured from the effects of the gas which some are claiming, based on the symptoms seen, to be "weaponized cyanide"
In two days, you and the rest of the world will forget about this massacre the same way you forgot about the rest that have happened over the last 2+ years in Syria.
We Syrians however, will never forget. Not the martyrs and not the way the rest of the world sat by and watched this happen to us.
A morbid list of at least 75 videos from today's attack compiled by @Brown_Moses here
A comprehensive list and description of the attacks by @RSyrianCivilWar here
Some of the dead children from the attack.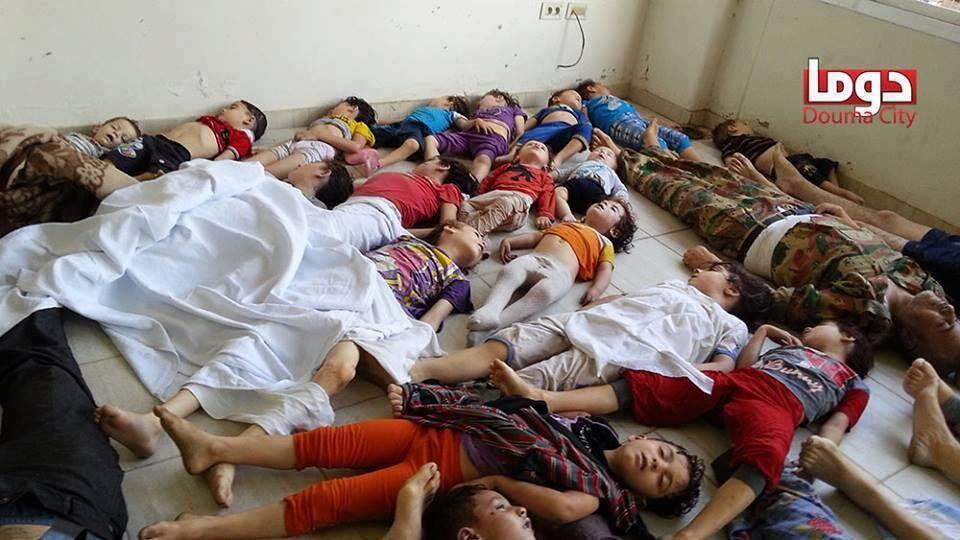 A father holds his dead daughter.
The girl from the photo above and her sister.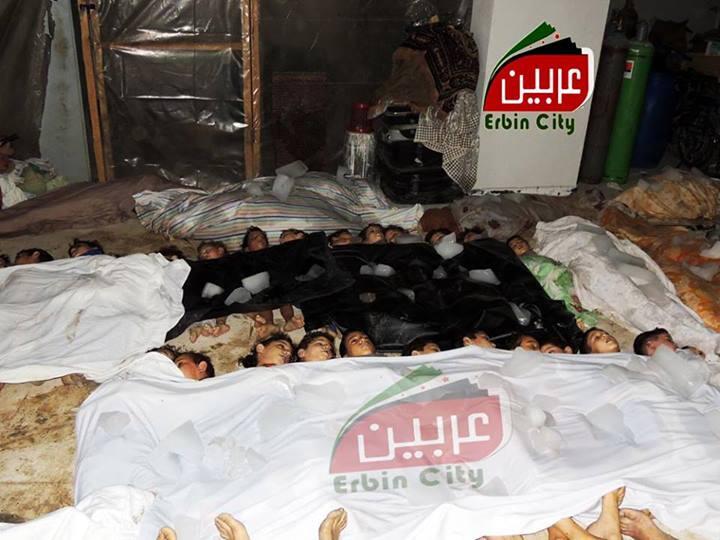 A man bemoans the loss of his daughter to chemical weapons. He says "Before she went to sleep and died she told me that it wasn't her turn to eat that day, it was her siblings turn" as they had very little food to eat.
Dead children in a hospital in Arbeen:
Doctors try to revive this girl as she struggle to breath from the effects of the chemical attack in Douma.
Scores of dead children and adults. Many still not yet dead yet, slowly dying an agonizing death.
Shortly after the attack by Assad's forces these children are brought to a makeshift hospital. There is nothing people can do for them. They are pouring water from a "7-Up" bottle on their faces. All they can do is wait and watch them die.
In Ein Turma, all they can do is watch this young man convulse on the floor until he dies. He will be taken into the next room when does where you can see more than a dozen men, women and children already dead.
Doctors and volunteers attempt to help some of the dying children. You will not the condition of this makeshift hospital. Imagine how agonizing it must be for this boy to suffocate to death in a dark, wet, filthy room surrounded by dead people everywhere.
This baby boy is being treated at a hospital. Unfortunately these images where the last of him alive. he later suffocated to death.
A boy lay on the floor of a hospital. He is convulsing and shivering as he slowly dies. There is nothing anyone can do for him.
Doctors try to revive this boy in Arbeen.
Volunteers attempt to tend to these two children. There is not medicine available to treat them and no doctors who understand what to do to save them.
Two little girls struggling to breath, nothing doctors can do other than wait for them to die.
A little girl is brought to a hospital. She's either dead or dying …
A live broadcast of when the dead and dying were being brought in to the hospitals for treatment.
By morning, residents were preparing the dead for burial … and waiting for the injured to die.